Featured Product
Still on This Journey
The Vision and Mission of Dr. Ron Daniels
By Ron D. Daniels — $30.00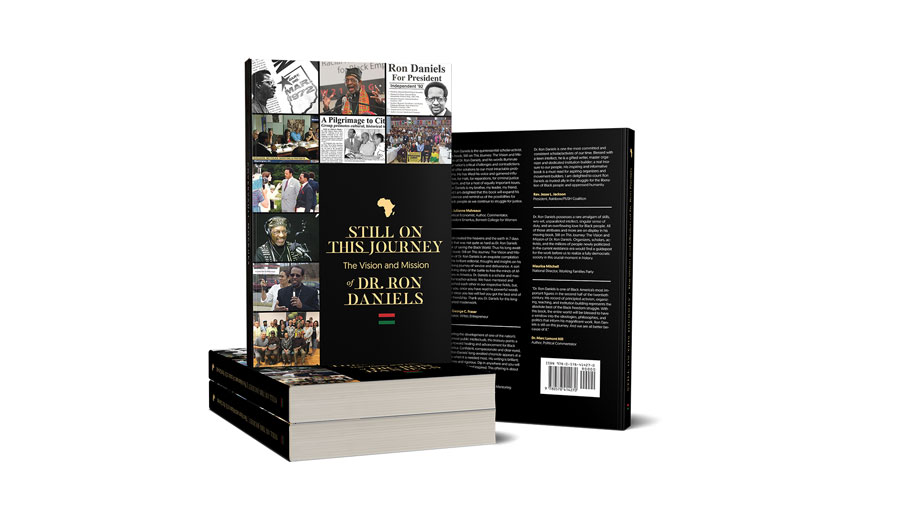 See what people are saying!
"Dr. Ron Daniels is the quintessential scholar-activist. His book, Still on This Journey: The Vision and Mission of Dr. Ron Daniels, and his words illuminate our nation's critical challenges and contradictions and offer solutions to our most intractable problems. He has lifted his voice and garnered influence, for Haiti, for reparations, for criminal justice reform, and for a host of equally important issues. Ron Daniels is my brother, my leader, my friend, and I am delighted that this book will expand his audience and remind us of the possibilities for Black people as we continue to struggle for justice."

Dr. Julianne Malveaux

Political Economist, Author, Commentator, President Emeritus, Bennett College for Women
"God created the heavens and the earth in 7 days but that was not quite as hard as Dr. Ron Daniels task of saving the Black World. Thus his long awaited book; Still on This Journey: The Vision and Mission of Dr. Ron Daniels is an exquisite compilation of his brilliant editorial, thoughts and insights on his lifelong journey of service and deliverance. A sort of living diary of the battle to free the minds of Africans in America. Dr. Daniels is a scholar and masterful teacher-activist. We have mentored and coached each other in our respective fields, but, like you, once you have read his powerful words and ideas you too will feel you got the best end of the friendship. Thank you Dr. Daniels for this long awaited masterwork."

Dr. George C. Fraser

Speaker, Writer, Entrepreneur
"Dr. Ron Daniels is one the most committed and consistent scholar/activists of our time. Blessed with a keen intellect, he is a gifted writer, master organizer and dedicated institution-builder; a real treasure to our people. His inspiring and informative book is a must read for aspiring organizers and movement-builders. I am delighted to count Ron Daniels as trusted ally in the struggle for the liberation of Black people and oppressed humanity."

Rev. Jesse L. Jackson

President, Rainbow/PUSH Coalition
"Charting the development of one of the nation's foremost public intellectuals, this treasury points a way toward healing and advancement for Black America. Confident, compassionate and clear-eyed, Dr. Ron Daniels' long-awaited chronicle appears at a time when it is needed most. His writing is brilliant; it is rare and rigorous. Dip in anywhere and you will be enlightened and inspired. This offering is about our real work—implementation."

Susan L. Taylor

Editor-in-Chief Emerita, Essence Magazine
"Dr. Ron Daniels possesses a rare amalgam of skills, wry wit, unparalleled intellect, singular sense of duty, and an overflowing love for Black people. All of those attributes and more are on display in his moving book, Still on This Journey: The Vision and Mission of Dr. Ron Daniels. Organizers, scholars, activists, and the millions of people newly politicized in the current resistance era would find a guidepost for the work before us to realize a fully democratic society in this crucial moment in history."

Maurice Mitchell

National Director, Working Families Party
"Dr. Ron Daniels is one of Black America's most important figures in the second half of the twentieth century. His record of principled activism, organizing, teaching, and institution building represents the absolute best of the Black freedom struggle. With this book, the entire world will be blessed to have a window into the ideologies, philosophies, and politics that inform his magnificent work. Ron Daniels is still on this journey. And we are all better because of it."

Dr. Marc Lamont Hill

Author, Political Commentator
Order Here
Purchase your copy today! A percentage of the proceeds
will go to support the work of the Institute of the Institute of Black World 21st Century.
If experiencing an issue with the cart below, please click here to complete your purchase.
Book Order Policies
Book order fulfillment has be entrusted to Aerio.
See policies and support info below for book orders.
Contact Customer Support
Email: aeriosupport@ingramcontent.com
Telephone and chat support not available.
Orders may only be placed online. Telephone, email, or fax orders not available.
Accepted Payment Methods
US and Canadian residents may purchase books via Aerio. Credit cards associated with a US or Canadian billing address accepted.
Cards accepted: Visa, MasterCard, American Express, JCB, Discover, and Diners Club
Charges will appear on your statement from "Aerio Retail Network."
Account Information
Credit card information can be saved to an account for quick purchases; and updated or removed from an account at any time. All credit card data is stored securely with Stripe, a PCI compliant third-party credit processor
Guest Checkout
If guest checkout is used, Aerio will not store credit card information.
Order Processing and Turnaround Time
Print Books:
Most orders of in-stock print titles ship the same day when ordered M-F, or the next day when ordered on weekdays.
eBooks:
eBook orders are fulfilled immediately.
Upon purchase, eBooks can be downloaded. Download instructions are also sent via email.
eBooks can be downloaded as epub or mobi files for use on devices for Kindle, iBooks, Nook, Kobo, Google, and other apps and ePub readers.
Pre-orders of print and eBooks
Pre-orders for any format are allowed 90 days in advance of the publication date.
A hold is placed on the credit card to authorize the order and will then drop off the card's balance. Credit cards are charged when print orders ship and eBook orders are delivered via email.
Pre-orders ship as soon as the title becomes available.
For pre-orders of ebooks, eBook download instructions are emailed when the eBook is published
Backorders of print and eBooks:
Backorders are allowed if a title is on order but not in stock.
A hold is placed on the credit card to authorize the order and will then drop off the card's balance. Credit cards are charged when print orders ship and eBook orders are delivered via email.
A backorder is filled if stock is received within a 30-day window.
Backorders ship as soon as the title becomes available.
If the title is still not available to ship after 30-days from the order date, the order will be cancelled and the consumer will receive notification of this cancellation by email.
Order Status
Please check your email or spam folder for order confirmation, shipment confirmation, and eBook reading instructions. Order confirmation emails include order status information and the expected shipping timeframe. Order Shipment emails include USPS or UPS tracking information.
Order Cancellation
Only pre-orders and backorders can be cancelled before fulfillment by contacting customer support at aeriosupport@ingramcontent.com.
US and International Shipping
USPS or UPS Ground
*Aerio will require that some heavy or high-dollar books are shipped via UPS.
Items will ship once available and in separate packages if necessary. Consumers will only be charged for freight once, calculated by the total weight of the books purchased and the ship-to location.
Orders can be shipped to locations anywhere in the US, Canada, or UK.
Canadian ship-to address: Canada Post Expedited is trackable and collects duty and taxes during checkout; via other shipment methods, consumers will be responsible for any billed duty and taxes.
International ship-to address: Tracking is not available.
Returns, Exchanges, and Refunds
Ebook orders are not returnable.
Print orders are fully returnable and refundable within 30 days of receipt of shipment. Refunds will be credited to the credit card used to place the order. Contact Customer Support at aeriosupport@ingramcontent.com to initiate a return.
Packing slips provided with shipments include return instructions
Refunds are processed within 2-3 weeks of the receipt of returned merchandise.
Exchanges are processed within 24-48 hours of the receipt of returned merchandise.
Sales Tax
We collect sales tax on all purchases as required by local taxing authorities in all 50 US states and in Canada. Tax-exempt purchases are not available.